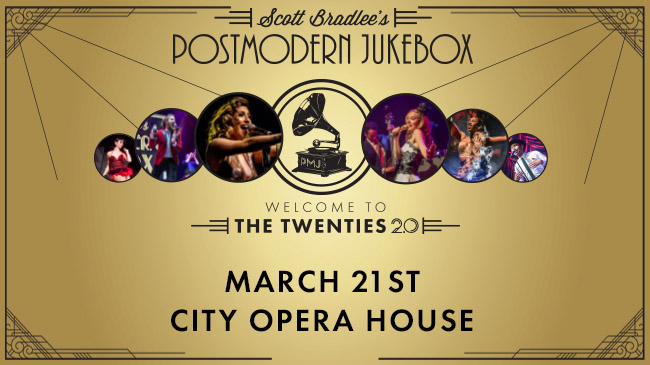 ---
Please review City Opera House COVID-19 response
Due to circumstances outside of our control Scott Bradlee's Postmodern Jukebox at City Opera House has been postponed until further notice. Ticket holders are asked to please hang on to their tickets, City Opera House will email ticketholders as soon as a new date is announced. Live Nation, Postmodern Jukebox and City Opera House regret any inconvenience this may cause.  
---
Ushering in the Twenty-Twenties, famed musical collective Postmodern Jukebox returns with their Welcome to the Twenties 2.0 Tour. 
The tour is meant to prepare the world for a new decade—one that Postmodern Jukebox creator Scott Bradlee hopes will see a return to the style and craftsmanship that typified the music of past generations.
"Last time around the 'Twenties gave us Jazz, America's one true art form. Who knows what is possible in the 2020s?" says Bradlee. "One thing that is for sure, is that this is the most sensational party this side of The Great Gatsby."
Started by Bradlee in 2009, Postmodern Jukebox (PMJ) has gone on to amass over one billion YouTube views with 3.5 million subscribers, and have chalked up more than 1.7 million fans on Facebook. For the past half decade, PMJ has toured the world, playing hundreds of shows to sold-out houses on six continents. They've also performed on shows like "Good Morning America," topped iTunes and Billboard charts, and caught the attention of NPR Music, NBC News and a wide array of celebrity fans.
---
Cast
Emcee: Casey Abrams
Featured vocalist: Therese Curatolo
Featured vocalist: Tia Simone
Featured vocalist: Brielle Von Hugel
Featured tap dancer: Jabu Graybeal
Piano: Jesse Elder
Bass: Adam Kubota
Drums: Dave Tedeschi
Woodwinds: Chloe Feoranzo
Trombone: JP Floyd
Guitar/banjo: Mike Chisnall
---
Admission
Tickets: $49.50, $65, $75
---
Performances
Saturday, March 21, 2020 - 8:00pm
---
Raymond James LIVE at City Opera House is made possible in part by our generous sponsors.