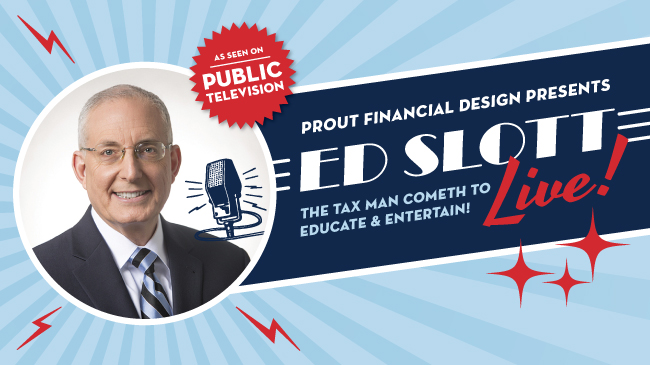 ---
In response to COVID-19, this event is canceled. Ticked purchasers will be recieve a full refund from City Opera House. 
---
Did you know that taxes will be the single biggest factor that separates people from their retirement dreams?
Join us for a lively evening of commentary, tips and strategies from IRA expert and CPA, Ed Slott! Ed takes the mystery out of complicated tax concepts. This is a totally unique, entertaining and educational show is for people who have spent a lifetime saving for their retirement and now need to know how to protect those savings from taxes.
Schedule:
6-7: Happy Hour with a Cash Bar and Live Music from the Windy Ridge Boys
7–8: Ed Slott
8:15: Book Signing with Ed
Purchase 2 tickets and get Ed's book FREE
Ed Slott, CPA, and founder of Ed Slott and Company, LLC, has been a featured writer in Investment News, Kiplinger and named "The Best" source for IRA advice by The Wall Street Journal. He is a regular guest on Public Television, too. Ed's program focuses on creating a plan to reduce or eliminate the heavy taxes on distributions from IRAs, 401(k)s and other retirement savings, including Roth IRA conversions. He combines his extensive IRA tax knowledge with humor and stories that everyone can relate to. You will reap substantial benefits instantly.
The Program Covers:
The newly enacted SECURE Act, its nuances and how to take advantage of latest retirement tax rules for 2020
Learn what to do NOW to reduce or eliminate the big tax hit later
Learn how to avoid costly tax traps and the big "stealth taxes" that can quickly wipe out your savings
Roth IRA's: conversions, new benefits and tax strategies
Tips and secrets, including the single biggest benefit in the Tax Code and how to make it work for you
Beneficiaries: What your beneficiaries need to know, and why beneficiary forms need to be up to date
And so much more
---
Admission
Tickets: $15
---
Performances
Tuesday, May 19, 2020 - 6:00pm
---
Disclaimer: Dennis Prout: Advisory Services offered through Capital Asset Advisory Services, LLC, a registered investment advisor. Heidi Thompson: Securities offered through Geneos Wealth Management, Inc. Member FINRA/SIPC. Advisory services offered through Capital Asset Advisory Services, LLC, a Registered Investment Advisor. Prout Financial Design does not offer legal or tax advice. Please consult the appropriate professional regarding your individual circumstance.