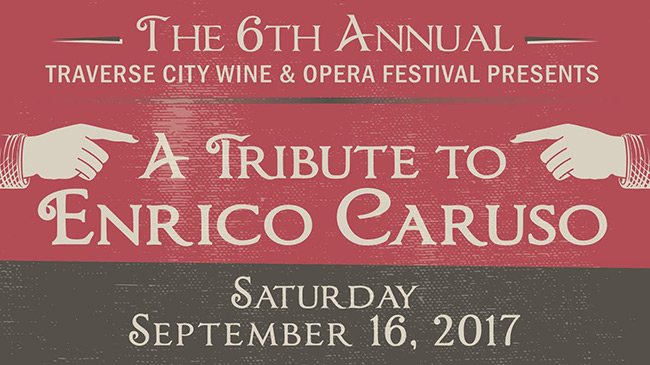 ---
The sixth annual Traverse City Wine and Opera Festival proudly presents A Tribute to Enrico Caruso. Founders Silvio "Tony" Ciccone and Mario Tabone cordially invite you to attend the sixth annual live, operatic event celebrating the life of Enrico Caruso, one of the greatest voices of the 20th century!
Featuring the Bellini Opera Group with Eva Evola as Rosa Ponselle, Amanda Kruk as Carmela Ponselle, Dino Valle as Titta Ruffo, Aaron Caruso as Enrico Caruso, David Husser – Pianist, David Passalacqua – Accordionist, and Francesco Cavallini – Mandolin, with Special Guests Katrina Van Maanen – Lyric Coloratura Soprano, and Constance Coulter – Soprano.
A Tribute to Enrico Caruso will include Neapolitan songs, arias from operas and operetta, and exciting Tango dancers!
VIP ticket includes a Tier 1 ticket to the performance and Afterglow party at ECCO, which includes Ciccone and Tabone wines and delicious hors d'oeuvres from Olives & Wine, along with mingling with the artists. Come and enjoy this tribute to the talent and larger-than-life personality of Enrico Caruso!
---
Admission
Tickets: $25, $35; VIP: $50
---
Performances
Saturday, September 16, 2017 - 7:00pm