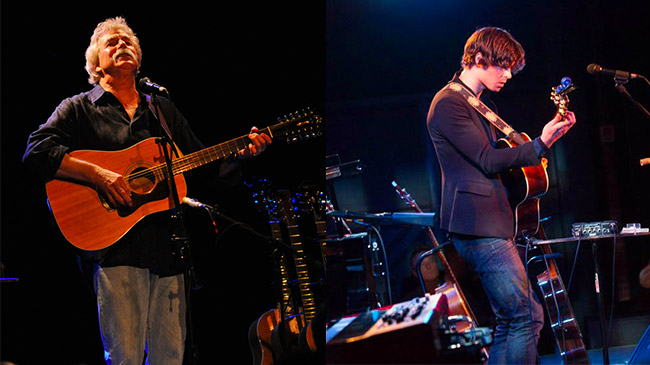 ---
Tom Rush is a gifted folk musician and storyteller, whose shows offer a musical celebration...a journey into the tradition and spectrum of what music has been, can be and will become. His distinctive guitar style, wry humor and warm, expressive voice have made him both a legend and a lure to audiences around the world. His shows are filled with the rib aching laughter of terrific story-telling, the sweet melancholy of ballads and the passion of gritty blues.
Tom is now celebrating his 52nd year on the stage and in the studio, still doing what audiences love him for: writing and playing …passionately, tenderly…knitting together the musical traditions and talents of our times.
Matt Nakoa is an internationally touring singer/songwriter, appears regularly with folk icon Tom Rush. Across the board, his song craft has garnered awards, including a win at Kerrville Folk Festival's prestigious New Folk Competition and as "Most Requested" at The Falcon Ridge Folk Festival. Though not easily pinned down, "In sum," as a recent review put it, "Matt Nakoa is musically adept, one of those well-kept secrets you just can't help but celebrate: intimate and genuine, soulful and bittersweet, a rich poetic songbook sung in praise to a complicated, emotionally present world."
---
Admission
Tickets: $30, $25
Student Tickets: $15
---
Performances
Saturday, November 17, 2018 - 8:00pm
---
Raymond James LIVE At City Opera House is made possible in part by our generous sponsors with support from Michigan Council for Arts and Cultural Affairs and the National Endowment for the Arts.