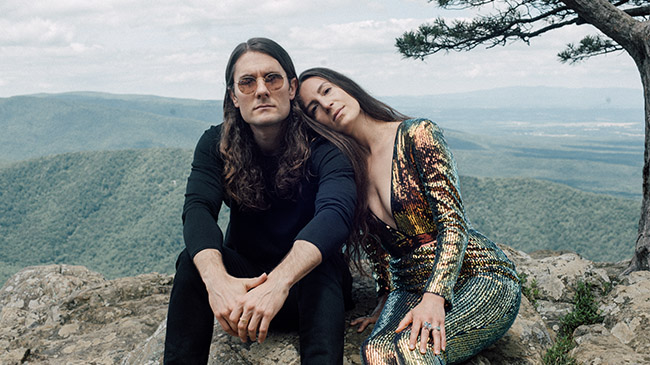 The hottest emerging music talent
---
This indie folk duo will warm your heart for the holidays. Nathaniel and Jillian, the founding members of the band The Bergamot, have interwoven their epic tale along with holiday- inspired music into one night of music and storytelling. A 50 state journey in 2016 unifying the country changed their lives forever. From the gentle winds of Santa Fe to the clattering of rail cars on The South Shore Train line, the stories from across the country take the listener on a winding tale from sea to shining sea. 
The Bergamot Holiday Concert is an intimate night of music and storytelling warming the hearts of listeners with songs and stories of inspiration and hope rooted in human empathy. A true holiday experience you won't want to miss.
On October 20th, 2017 The Bergamot released the dreamy anthem P.D.R. (Both Records LLC). The single launched the band's career who was then discovered by Matt Wiggins (Adele, U2, Florence and the Machine) and achieved great reviews being called "The hottest emerging music talent" (People) and "a gorgeous sound" (Daily Mirror).
After making the band's UK debut in The Daily Record and The Daily Mirror, the band is being heralded as "one of 2019 finest" (mp3hugger) and a band that "We've been lauding for years" (Atwood Magazine). 
The Bergamot have been featured in USA Today, People Magazine, BuzzFeed, Brooklyn Vegan, The Deli Magazine (NYC), Paste Magazine, Icon Magazine, The Chicago Tribune, Skope Magazine, Pancakes & Whisky, WGN Chicago, and CBS. 
The band has toured extensively performing over 500 dates in all 50 states their routes have included two tours to Europe.
---
Admission
Tickets: $22, $15
Groups of 10 or more save 10%. Order by phone at 231.941.8082
---
Performances
Thursday, December 19, 2019 - 7:30pm
---
Raymond James LIVE at City Opera House is made possible in part by our generous sponsors.