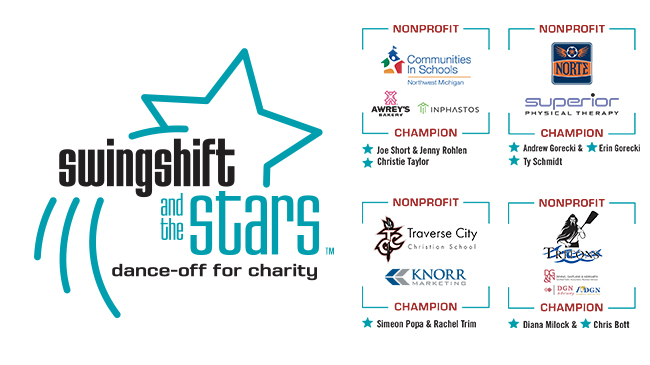 ---
SwingShift and the Stars is an inventive performance competition, but more than that, it is a platform for area nonprofits to gain awareness, foster new relationships and raise much-needed funds for their organizations. This season, 8 nonprofits with the support of their business champions and local celebrities will join in on the fun. 100% of your donation dollars (envelope received at the door) go directly to the organization of your choice. Opportunities for online giving are also available and strongly encouraged throughout the season.
Opportunities for online giving are also available and strongly encouraged throughout the season. Donate to your charity of choice.
October Charities, Corporate Partners, and Stars
Communities In Schools of Northwest Michigan / Inphastos and Awrey's Bakery
Star: Joe Short
Instructor: Jenny Rohlen
Lip Sync Star: Christie Taylor
Communities In Schools of Northwest Michigan believes that relationships, not programs, change the trajectory of student's lives.  So, we amplify the power of each student's potential by connecting them to caring adults and community resources designed to help them succeed.  We're by their side every day, supporting them in ways that go beyond the classroom.  Whatever it takes, however they need us - we're in schools to keep kids in school.
Norte Youth Cycling / Superior Physical Therapy
Stars: Andrew and Erin Gorecki
Lip Sync Star: Ty Schmidt
Norte is the Traverse City area's active transportation-centered, youth-focused, neighborhood-based 501c3 advocacy organization. Norte's mission is to help build stronger, better connected and more walk/bike friendly communities by empowering the young and young at heart.
Independent, happy, confident, ready to learn youth are empowered to be guardians of their health, develop lifelong habits to move more and sit less and be leaders in their neighborhood.
Norte | Happy. Healthy. Strong.
Traverse City Christian School / Knorr Marketing
Star: Simeon Popa  
Instructor: Rachel Trim
Traverse City Christian School is a private learning community serving the children of families in Northern Michigan, as well as international students from around the world. From Preschool to 12th Grade, we are committed to providing an excellent education and instilling in our students a genuine desire to love and serve God. This involves combining a balanced academic, arts and athletics education with Christian study and discipleship, ministry and missions.
Traverse City Tritons Rowing
Star: Dianna Milock 
Instructor/Lip Sync Star: Chris Bott
The Traverse City Tritons Rowing Team is a not for profit youth sports team based out of Medalie Park in Traverse City. Founded in August of 2017, Tritons partnered with TCAPS Learning, Enrichment and Athletic Program to promote the sport and bring rowing to high school students in our community. Our mission on the Tritons team is to create an environment where our area's youth has the opportunity to experience the joy and reward of being active and on the water in beautiful Northern Michigan.
Admission
Reserved Balcony: $30
Upper Balcony General Admission: $25
---
Performances
Friday, October 18, 2019 - 7:00pm