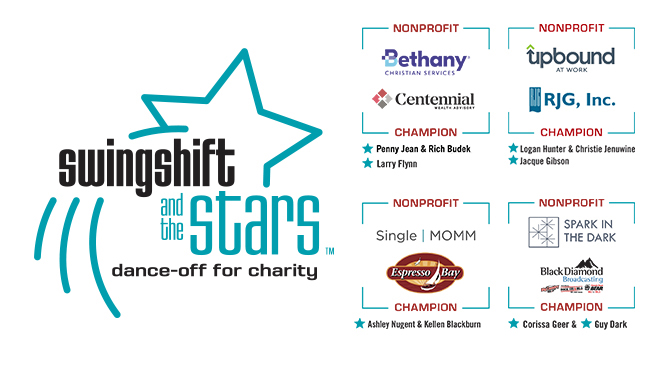 ---
SwingShift and the Stars is an inventive performance competition, but more than that, it is a platform for area nonprofits to gain awareness, foster new relationships and raise much-needed funds for their organizations. This season, 8 nonprofits with the support of their business champions and local celebrities will join in on the fun. 100% of your donation dollars (envelope received at the door) go directly to the organization of your choice. Opportunities for online giving are also available and strongly encouraged throughout the season.
Opportunities for online giving are also available and strongly encouraged throughout the season. Donate to your charity of choice.
November Charities, Corporate Partners, and Stars
Bethany Christian Services / Centennial Wealth Advisory 
Star: Penny Jean 
Instructor: Rich Budek
Lip Sync Star: Larry Flynn
Bethany is a global nonprofit dedicated to helping families thrive. Our core services include pregnancy counseling, adoption, foster care, refugee services, and strengthening families through family preservation. Internationally, we partner with several countries to support people, right where they are. At Bethany, we go to the ends of the earth to ensure families are connected, healthy, and together.
Upbound at Work / RJG
Star: Logan Hunter 
Instructor: Christie Jenuwine
Lip Sync Star: Jacque Gibson
Upbound at Work connects and supports talented individuals with disabilities, putting them to work in great companies in the Traverse Bay area and across the State.  A job opens doors, offers life-changing impact, and allows people with disabilities to reach their greatest potential. Upbound at Work is powered by the Autism Alliance of Michigan.
Single MOMM / Espresso Bay
Star: Ashley Nugent 
Instructor: Kellen Blackburn
Since 2008 Single MOMM, a Traverse City based non-profit has ignited hope, healing and confidence in single mom families. They serve over 600 plus families annually in the Greater Grand Traverse area with mentorship, classes, event nights, resource networking, the reVIVE course, and a restorative residential program. Today they are known nationally as a leading expert in empowering women to support their own families.
Spark In The Dark / Black Diamond Broadcasting 
Star: Corissa Geer 
Instructor/Lip Sync Star: Guy Dark
Spark in the Dark is an online network for neighbors to directly help each other. Nearly 10,000 members strong, the group allows members to post a need--diapers, a refrigerator, or maybe help with a water bill--and connect with others in the community who can meet those needs. While individual members are the beating heart of Spark, numerous organizations have joined the group as well, to connect with those who could use their services, and get a better pulse on needs in the area. In the past two years, the group has helped meet 25,000 needs, and that number grows each day, minute and second.
Admission
Reserved Balcony: $30
Upper Balcony General Admission: $25
---
Performances
Friday, November 15, 2019 - 7:00pm