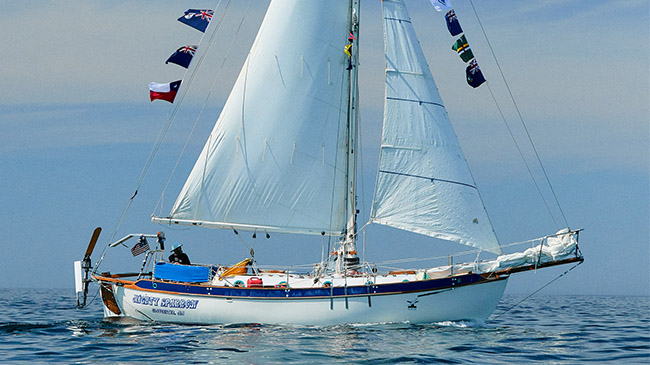 ---
Jerome Rand proudly presents the true account of an epic ocean adventure, Sailing Into Oblivion,  271 days aboard a 32 foot sailboat, alone and without stopping. The adventure began on October 3rd 2017 in Gloucester Massachusetts where the little boat, Mighty Sparrow, crossed over the horizon and out of sight for the next 9 months.  Jerome's route would take him South across the Atlantic Ocean heading for the dangerous waters off the Cape of Good Hope where he then turned East for the next 12,000 miles. Sailing across the Indian and then on to the Pacific Ocean, Jerome would be challenged with dwindling food and water supplies, terrifying storms, and the effects of extreme isolation. Once around Cape Horn the adventure evolved into an endurance test as the isolation would last another 75 days.  
Hailing from Northern Michigan, this homegrown sailor found his passion on the beautiful inland lakes and Little Traverse Bay. Before long the ocean called and Jerome answered with gusto.  To sail around the world, alone and without stopping, is one of the greatest challenges of endurance on the planet.  Full of dangers but also beauty, our Ocean World is a remarkable place.
In this one-hour presentation, Jerome will narrate through pictures and video from both the highs and lows during the voyage. A 30 minute QandA session will round out any questions about the voyage. 
---
Admission
Tickets: $15, Senior and Youth: $12
---
Performances
Monday, July 22, 2019 - 3:00pm
Monday, July 22, 2019 - 6:00pm