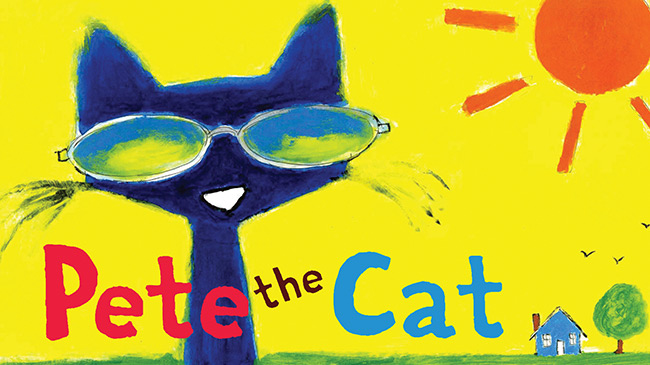 ---
Pete the Cat, the new musical based on the PETE THE CAT series of books by Kimberly and James Dean is the family event of Thanksgiving weekend!
When Pete the Cat gets caught rocking out after bedtime, the cat-catcher sends him to live with the Biddle family to learn his manners - and boy are they square! But for the groovy blue cat, life is an adventure no matter where you wind up, so the minute Pete walks in the door, he gets the whole family rocking. The whole family that is, except for young Jimmy Biddle, the most organized second-grader on planet earth. As the end of second grade approaches, Jimmy has a lot of tests, and the last thing he needs is some groovy cat in his life, changing his family and turning everything upside down. But when Jimmy draws a blank in art class during the last week of school, it turns out Pete is the perfect friend to help him out. Together, they set out on a mission to help Jimmy conquer second grade art, and along the way, they both learn a little something new about inspiration. Join Jimmy and Pete on an adventure of friendship, all the way to Paris and back in a VW Bus.
Theatreworks USA is America's largest and most prolific professional not-for-profit theatre for young and family audiences. Since 1961, Theatreworks USA has enlightened, entertained, and instructed over 85 million people in 49 states and Canada, now performing for about 3 million people annually. Theatreworks USA is also one of the most honored theatres of its kind. It is the only children's theatre to receive both a Drama Desk and a Lucille Lortel Award.
*Not eligible for discount
---
Admission
Tickets: $9 (Sold Out)
Groups of 10 or more save 10%. Order by phone at 231.941.8082
Best for ages 4+
---
Performances
Saturday, November 25, 2017 - 11:00am
Saturday, November 25, 2017 - 1:30pm
---
Auto-Owners Insurance Performing Arts at City Opera House is made possible in part by our generous sponsors, the Michigan Council for Arts and Cultural Affairs and the National Endowment for the Arts.