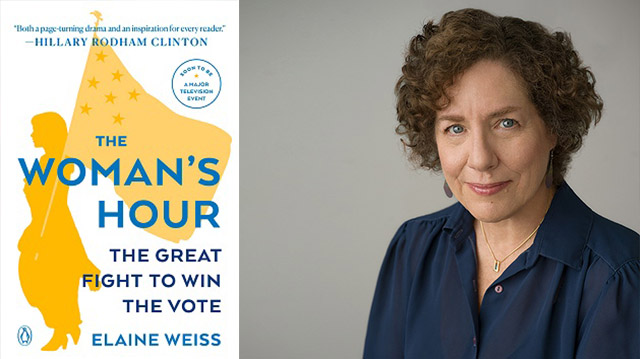 ---
Due to COVID-19, all NWS imperson events have been canceled through July. Ticket purchasers will receive a full refund from the City Opera House.
An Evening with Elaine Weiss will now be a virtual event on June 11, at 7pm via zoom, with guest host Susan Odgers.
In honor of the centennial of the ratification of the 19th Amendment, Elaine Weiss brings her book, The Woman's Hour: The Great Fight to Win the Vote. After seven decades, the battle for women's voting rights boils over in a steaming hot summer in Tennessee. Cue the dirty tricks, betrayals, bribes, bigotry, bourbon and the Bible. The Great Fight is being adapted for television by Steven Spielberg's Amblin Entertainment, with Hilary Rodham Clinton as an executive producer.
View a Quick tutorial about Zoom
---
Performances
Thursday, June 11, 2020 - 7:00pm
---
This event was made possible by: Bubbling Babes Book Club; Sustaining Sponsor Cordia; Season Sponsor Rehmann; Grantors Michigan Council for Arts and Cultural Affairs, National Endowment for the Arts; Media Sponsors Midwest Broadcasting Co., Traverse City Record-Eagle, Northern Express, Interlochen Public Radio, WNMC.