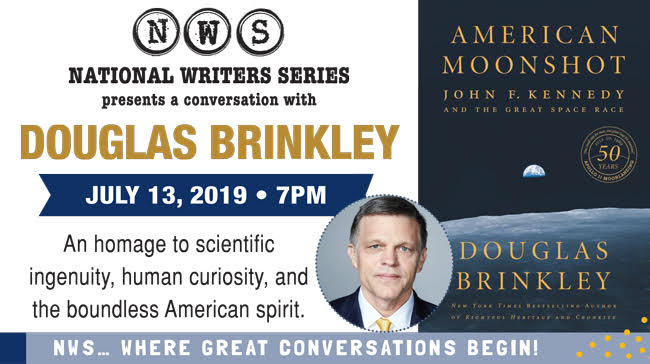 ---
Doug Brinkley is CNN's Presidential Historian, a professor of history at Rice University and the author of 12 books, including five New York Times bestsellers. He'll take the stage with John U. Bacon to talk about his newest book, American Moonshot: John F. Kennedy and the Great Space Race. They will talk about one of the most thrilling eras in our history.
Doors open at 6 pm with cash bar and music.
---
Admission
Tickets: $17, $27
Student Tickets: $5
---
Performances
Saturday, July 13, 2019 - 7:00pm
---
This event was made possible by Event Sponsor and Season Sponsor: Boomerang Catapult; Sustaining Sponsor: Cordia; Grantors: Michigan Council for Arts and Cultural Affairs, National Endowment for the Arts; Media Sponsors: UpNorth Media, Midwest Broadcasting Co., Traverse City Record-Eagle, Northern Express, Interlochen Public Radio, WNMC.