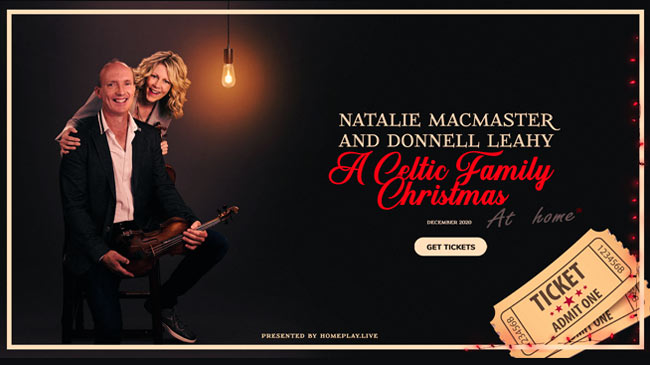 ---
Natalie MacMaster, together with husband Donnell Leahy and their seven children, will be celebrating Christmas virtually this year! For decades, they have toured extensively at Christmas, but this year marks their most unique one, taking the stage to their home! They will spend just over an hour sharing with you much of their music and culture, Christmas traditions, and general real-life family dynamics in the comfort of their own home!
They are quite excited to play their music for you (which includes the children as well for many of the tunes), do some dancing, some singing, some baking, talk about Christmas memories past, and even have their band join them for a couple of the virtual performances! Given their children's ages and personalities, there will be many candid moments along the way.
"I've heard it said that every disadvantage creates an opportunity. Well we have embraced this chance to perform for a crowd in such a unique way and are eagerly awaiting the moment you all show up at our front door, ready to welcome you home!"
– Natalie MacMaster
Patron only needs to purchase one ticket per household and enjoy the show. If for some reason after purchasing, you find the date/time does not work you can log on with the link you receive any time after December 19 until December 31st and enjoy the show.
Support provided by Michigan Humanities and the National Endowment for the Humanities (NEH) as part of the Coronavirus Aid, Relief and Economic Security (CARES) Act economic stabilization plan.
---
Admission
Virtual Tickets: $20 per device
---
Performances
Saturday, December 19, 2020 - 7:00pm