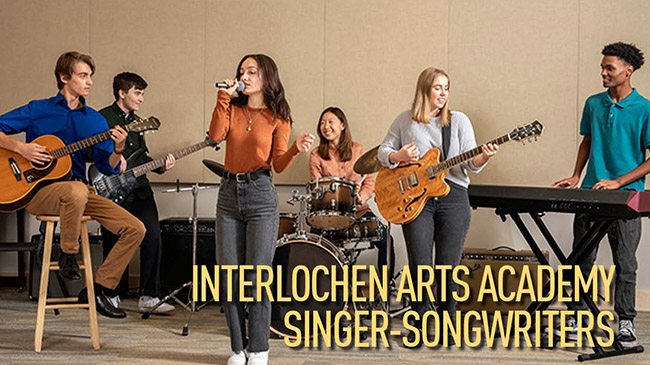 ---
Singer-songwriters from Interlochen Arts Academy take the stage to perform original works in a variety of styles and genres. The concert will feature 15 of the Academy's finest up-and-coming artists.
The program is comprised entirely of original songs written by the performers. The works will be presented in both electric and acoustic settings, ranging from intimate solos to spirited anthems backed by drums, basses, theremins and other instruments.
Two of the Academy's popular music ensembles, The Wrecking Crew and the Meters, will serve as backing bands for the performers.
Enjoy an evening of intimate acoustic and full-band arrangements by these up-and-coming artists.
---
About the Artists
Aysu Buldaç
Vocals, piano, guitar, and drums
Aysu Buldaç is a Thai-Turkish singer/songwriter currently based in Adana, Turkey. A relative newcomer to songwriting, Buldaç enjoys experimenting with styles and exploring her thoughts and feelings through her music.
Sami Cronin
Vocals and acoustic guitar
Sami Cronin is a singer/songwriter from Traverse City, Michigan. Sami's songs are eclectic but are often alternative pop tunes with piano or guitar accompaniment. Her lyrics are direct and vulnerable, often recounting past encounters or experiences.
Jess Detor
Vocals and piano
Jess Detor is a singer/songwriter from Minneapolis, Minnesota. Detor grew up in London, where she started writing songs in her bedroom. Her music is a blend of pop and indie with a strong lyrical focus.
Clara Devey
Vocals and piano
Clara Devey is a singer/songwriter from Traverse City, Michigan. Her pop-folk songs are influenced by artists like Ingrid Michaelson and Rex Orange County and are often inspired by her favorite books.
Ava DiSimone
Vocals
Ava DiSimone is a Canton, Ohio based singer/songwriter. She delivers a feminine punk groove that tugs at your deepest heartstrings with whispers of brutal honesty, sensuality, and wit in every line.
Levi Ebnit
Vocals and acoustic guitar
Levi Ebnit is a singer/songwriter from Midland, Michigan. A passionate performer, Levi has performed in many prestigious Midwest venues. Levi describes his style as "noise-shoegaze-post-punk-antifolk-rock" and finds inspiration in novels, movies, and experiences.
Isabella Farmer
Isabella Farmer is an indie-folk singer/songwriter from Leesburg, Virginia currently based in northern Michigan. Her songs can be characterized by poetic, intriguing lyrical content, smooth vocals, and mellow guitar work.
Hixon Foster
Vocals and theremin
California-based songwriter Hixon Foster creates folk-inspired music that explores niche facets of music and manipulates them into accessible yet quirky songs. His lyrics are inspired by the loneliness, joy, and stories he sees and experiences.
Ava Goldfarb
Vocals
Ava Goldfarb is a Michigan-based singer/songwriter from Charleston, South Carolina. She is mainly R and B-focused but enjoys pulling elements of other genres into her work. Her writing draws on imaginative scenes while adding a personal touch.
Gillian Greenlaw
Gillian Greenlaw is a singer/songwriter from St. Louis, Missouri. Raised on classical music and
the Beatles, Greenlaw blends instruments and voices into songs of unconditional love. In a world of fast-fashion pop, Greenlaw crafts hand-knit sweaters.
Calvin Hinds
Calvin Hinds is a singer/songwriter from Mattawan, Michigan. Hinds is characterized by his engaging stage presence, profound lyrics, and authenticity. His songs stay true to a classic sound that is real, raw, and powerful.
Breezy Love
Vocals and acoustic guitar
Chicago-based singer/songwriter Breezy Love has been catching wind through personal and intuitive songs that reveal the truth of social issues and everyday experiences. Her work is defined by theatrical energy, positivity, and raw honesty.
Grace Monahan
Grace Monahan is a songwriter from Los Gatos, California. Her main genre is country, although she experiments with rock and decades pop. Monahan's music highlights the ups and downs of life—and all the little moments in between.
Luke Ogea
Vocals and acoustic guitar
Upper Michigan based singer/songwriter Luke Ogea breathes new life into the classic sounds while pushing the boundaries of music. A seasoned performer, Ogea draws inspiration from country, folk, rock, and blues.
Haiven Sellers
Vocals, piano, and violin
A native of Saint James, New York, Haiven Sellers is a singer/songwriter and classically trained violinist. Sellers' folk/pop/indie songs are inspired by her observations and the music of Norah Jones and Alice Merton.
---
Faculty
Courtney Kaiser-Sandler
Courtney Kaiser-Sandler is a professional musician and founder of the singer-songwriter program at Interlochen Arts Academy. Kaiser-Sandler has recorded two solo albums and four albums with her band, Kaiser Cartel, and has collaborated with artists such as John Mellencamp, Sufjan Stevens, and The Wallflowers.
Kyle Novy
Kyle Novy is equally experienced on stage and in the studio. Novy has composed music for commercial projects and has guided many artists as a music producer and audio engineer. In addition to teaching and production, Novy released 52 original songs with his Mount Valor project.
Joshua Davis
For over 20 years Joshua Davis has shared his songs, stories, and knowledge across the US and Canada as a solo act, front man, collaborator, and instructor. He has collaborated with such luminaries as Pete Seeger, Sheryl Crow, and The Indigo Girls. Davis has released 15 records and was a finalist on Season 8 of NBC's The Voice. 
---
Founded in 2012, the Interlochen Arts Academy Singer-Songwriter program is led by successful recording and touring artists Courtney Kaiser-Sandler (Kaiser Cartel) and Kyle Novy (Mount Valor) with The Voice finalist Joshua Davis as an adjunct instructor. Singer-songwriter students enjoy regular opportunities for local and regional touring, with recent performances at Square Cat Vinyl in Indianapolis, Disneyland, and PPG Paints Arena in Pittsburgh as the opening act for Bon Jovi. Alumni of the program have gone on to study in the nation's finest collegiate songwriting programs and enjoy successful careers as performing musicians.
---
Admission
Tickets: $20, $15
Student Tickets: $10
Groups of 10 or more save 10%. Order by phone at 231.941.8082
---
Performances
Friday, February 21, 2020 - 8:00pm
---
MSU Federal Credit Union Performing Arts At City Opera House is made possible in part by our generous sponsors.