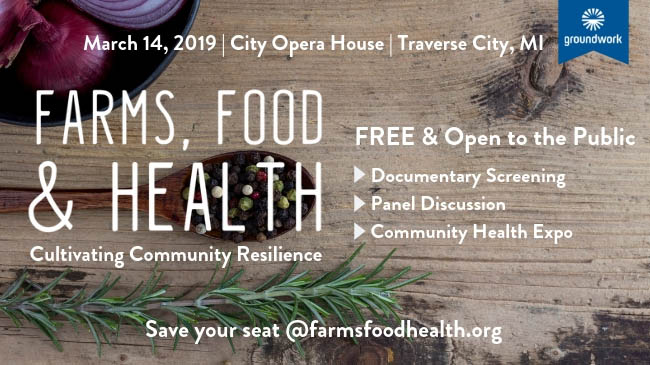 ---
Cultivating Community Resilience: Addressing toxic stress by connecting farms, food and health
Join the Groundwork Center and our community partners for a free movie screening of Resilience: The Biology of Stress and The Science of Hope, followed by a professional panel discussion. We will show this powerful movie and then explore the ways we are addressing ACEs (Adverse Childhood Experiences) by building personal and community resilience by using local food, cooking and nutrition programs.
This event is free of charge and open to the public. Online registration is highly encouraged.
Panelists
Dr. Robert Sprunk, MD FAAP, Pediatrics and Neonatology Munson Medical Center
Jesse Wolff, Senior Advisor,Healthy Communities Grand Traverse Regional Community Foundation
Kristen Ryder, School Psychologist, Traverse Bay Area Intermediate School District (TBAISD) and trauma informed Yoga instructor
Moderated by Meghan McDermott, Food and Farming Director, Groundwork Center
About the film
"The child may not remember, but the body remembers"
Researchers have recently discovered a dangerous biological syndrome caused by abuse and neglect during childhood. As the new documentary Resilience reveals, toxic stress can trigger hormones that wreak havoc on the brains and bodies of children, putting them at a greater risk for disease, homelessness, prison time, and early death. While the broader impacts of poverty worsen the risk, no segment of society is immune. Resilience, however, also chronicles the dawn of a movement that is determined to fight back. Trailblazers in pediatrics, education, and social welfare are using cutting-edge science and field-tested therapies to protect children from the insidious effects of toxic stress—and the dark legacy of a childhood that no child would choose.
More information about Resilience
---
Admission
Free event with online registration
---
Performances
Thursday, March 14, 2019 - 5:30pm