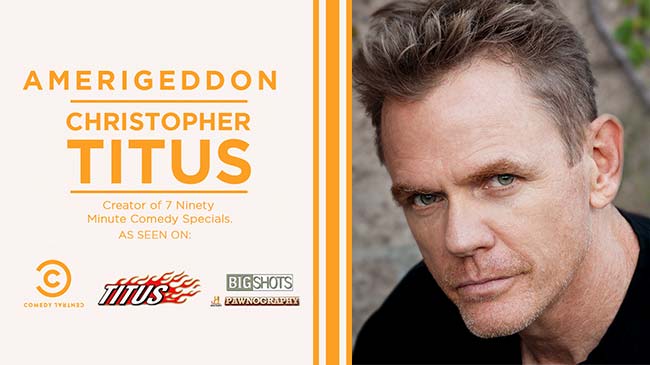 ---
Employing what he's labeled 'hard funny,' Christopher Titus, star and creator of the Fox show, "Titus," has released seven ninety-minute albums in as many years. He has six one-hour comedy specials currently running on Comedy Central, and his seventh special, Born With a Defect, premiered in 2017, and spent 6 weeks on the Billboard Top Ten Comedy Charts. Known for leaving no stone unturned, especially within his own life and family, Titustakes his audience on a 90-minute ride that will leave them exhausted from laughter. To see one of Christopher Titus' shows, is to love him. Titus is currently performing his newest show in sold out theaters across the country. He also formed a production company, called Combustion Films, which produced his last three specials and most recently, a full-length film called "Special Unit" released in 2017.
---
Admission
Tickets: $25, $35, $45
---
Performances
Thursday, October 18, 2018 - 8:00pm
---
Raymond James LIVE At City Opera House is made possible in part by our generous sponsors with support from Michigan Council for Arts and Cultural Affairs and the National Endowment for the Arts.