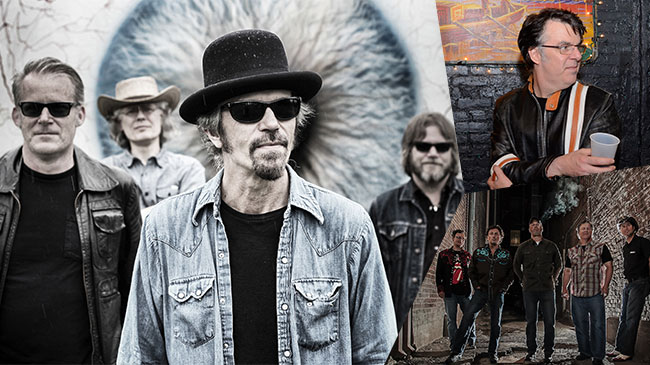 ---
The Bottle Rockets' brand of populist, Midwestern, brawny rock 'n' roll is a sound so effortless, it's easy to take their craft for granted; a sound so universal, yet unmistakably The Bottle Rockets. They've crushed rowdy Friday night crowds, convinced sitting audiences to get on their feet, and pulled weary festival onlookers across muddy fields to the front of the stage. With their twelfth album, South Broadway Athletic Club, the quartet gives a master class in capturing the beauty of everyday life, and painting a portrait of ongoing hope.
Throughout their entire career, The Bottle Rockets have managed to stay true to the rabid music heads as well as casual dial-turning everybody's. After 20+ years, they've come out on the other side stronger and more energized than ever before, proactively writing their own creative arc. "Always lending uplift to hard times and good ones, Henneman and his band are still here to help you get through your real life." - NPR Music
Eric Ambel is a celebrated guitar-player who has made enduring music as a solo artist and as a member of the Del-lords, the Yayhoos and his own legendary combo Roscoe's Gang. His inventive guitar work has graced albums by everyone from Steve Earle to Joan Jett to Run-DMC. He is also a producer of note, most recently having produced the latest Bottle Rockets album. Ambel has just released his 4th studio record titled Lakeside.  It's a rough and tumble tribute to the bar he owned for 16 years in NYC's East Village.  "As dirty and messy as Ambel can get, there's a level of craft in what he does that's rarely seen these days. And while he's known first and foremost as a guitarist, he really hit the vocals out of the park here. Other guys get old and reedy and raspy; Ambel sounds about 25, full of piss and vinegar." – New York Music Daily
The Surreal McCoys took the Americana music world by storm in 2015 and 2016. Delivering a sound that pushes the genre forward, The Alternate Root magazine raves "The Surreal McCoys successfully put Hank Williams into the garage, and stick the Replacements on stage at a honky tonk." 
Combining forces with veteran alt-country rock legend Eric "Roscoe" Ambel to record and release their second album (September 2015), The Howl and the Growl placed in the Top 100 Albums of 2015 in Americana music magazines Alternate Root and No Depression in 2015. The Surreal McCoys went on to perform at SXSW, debuted The Howl and the Growl to standing room only crowds at Nashville's AmericanaFest in a double bill with The Bottle Rockets and earned "Whole Lotta Folsom" a spot in regular rotation on Sirius XM Outlaw Country. 
---
Admission
Tickets: $27.50, $17.50
---
Performances
Saturday, June 17, 2017 - 8:00pm