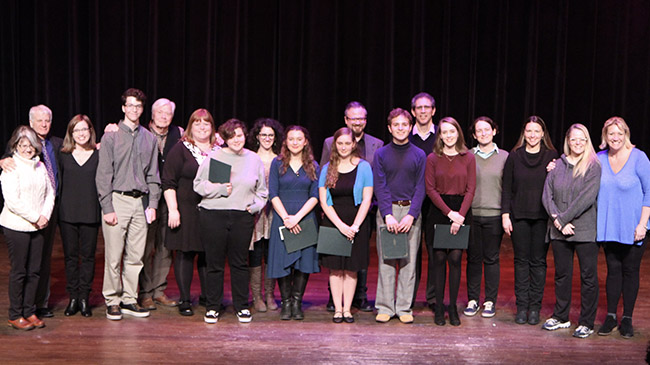 Educator and Mentor Resources
Michigan high school students are invited to submit a one-act play to a juried competition. Six original works, written by regional high school students, are selected. Finalists are assigned a professional theatre mentor who assists the playwright with revising their play. Each finalist receives a $100 award and sees their play produced and performed on the City Opera House stage. The Young Playwrights Festival culminates in a free community event. More details are available in the FAQs.
Young Playwrights Festival complements the ELA Common Core Standards and offers an alternate way for students to learn and grow.
Entrants:
Exercise creative writing in a nontraditional way (while complementing ELA standards)
Express topics relevant to them in a safe and nurturing way
Embrace the art of crafting and structuring language through research, construction and application
Apply communication skills through explanation and experiences
Finalists:
Learn alongside national theater mentors
Collaborate with teachers, mentors, actors and peers to see their play come to life
Experience their works produced and performed on the City Opera House stage by regional actors
Showcase their work on stage to friends, family and classmates at no costs
Finalists are matched with professional theatre mentors who guide students through revisions via email and in person the weekend of the festival performance. YPF is a juried competition.
Past YPF mentors include:
Melissa Cooper – Playwright
Amanda Grace Ewing – Program Coordinator, University of Michigan's Educational Theatre Company
Michael Haney – Freelance Director
Emily Kohring – Freelance Director and Arts Educator
Emilio Rodriguez – Playwright
Randy Wyatt – Associate
Educator YPF Toolkit
Printed YPF brochures are available upon request at ypf@cityoperahouse.org. Brochures are 3 ½ x 8 ½ quad fold. Please note quantity and mailing address in email.
Questions? Email ypf@cityoperahouse.org or call Diane Baribeau at 231.941.8082.
Young Playwrights Festival is presented by City Opera House in collaboration with Wharton Center Institute for Arts & Creativity.
---

---