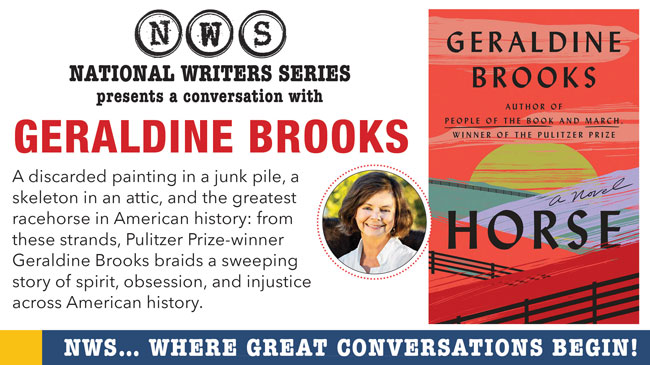 ---
Meet beloved author and Pulitzer Prize winning author Geraldine Brooks. Her newest novel, Horse, is based on the remarkable true story of Lexington, a record-breaking thoroughbred. Spanning nearly 170 years of American history, it's a sweeping novel of love and obsession and our unfinished reckoning with racism.
For this event, you can buy one ticket with a signed hardcover book, or two tickets with a signed hardcover. (For the 2 ticket/1 book option, please call the boxoffice at 231-941-8082. It is not available online.)
Doors open at 6 p.m. with a cash bar and live music. The event starts at 7pm, followed by a personalized book signing.
---
Performances
Tuesday, June 13, 2023 - 7:00pm
---
Sustaining Sponsor: Begonia Charitable Foundation & Diana Milock
Season Sponsor: NorthGuard Technology Group
Event Sponsor: Green Brick Foundation
Development Sponsor: Michael & Rhonda Estes Family
Arts Benefactor: Northwest Michigan Arts & Culture Network
Grantors: Michigan Arts and Culture Council and the National Endowment for the Arts
Media Sponsors: Traverse City Record-Eagle, Interlochen Public Radio, Up North Media, Midwest
Broadcasting, Northern Express
Supporting Sponsors: Image 360, Horizon Books, Amical, Cambria Suites, The Copy Shop
Official Airport: Cherry Capital Airport