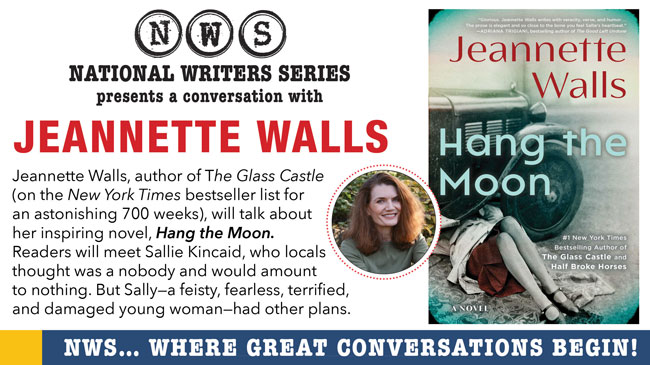 ---
Meet Jeannette Walls, the #1 New York Times bestselling author of The Glass Castle, an unforgettable childhood memoir that has sold 5 million copies worldwide. Walls will talk about her writing life and newest novel, Hang the Moon, with guest host Susan Odgers. Her highly anticipated novel follows the journey of Sallie Kincaid, a feisty and fearless, terrified and damaged young woman who refuses to be corralled in her small Virginia town during the Prohibition era.
One ticket and one book is $39 or $49. Two tickets and one book are $55 or $75. (For the 2 ticket/1 book option, please call the boxoffice at 231-941-8082. It is not available online.)
Doors open at 6pm. with live music and a cash bar. The event starts at 7pm, followed by a book signing.
---
Performances
Wednesday, May 3, 2023 - 7:00pm
---
Sustaining Sponsor: Begonia Charitable Foundation & Diana Milock
Season Sponsor: NorthGuard Technology Group
RECEPTION SPONSOR: Oryana Community Coop
Development Sponsor: Michael & Rhonda Estes Family
Arts Benefactor: Northwest Michigan Arts & Culture Network
Grantors: Michigan Arts and Culture Council and the National Endowment for the Arts
Media Sponsors: Traverse City Record-Eagle, Interlochen Public Radio, Up North Media, Midwest
Broadcasting, Northern Express
Supporting Sponsors: Image 360, Horizon Books, Amical, Cambria Suites, The Copy Shop
Official Airport: Cherry Capital Airport